Incident report

Trivial

3.0.6

,

3.0.7

,

3.2.2

,

3.2.3
There is an option to select targets for remote commands executed on server (in Action -> Operations):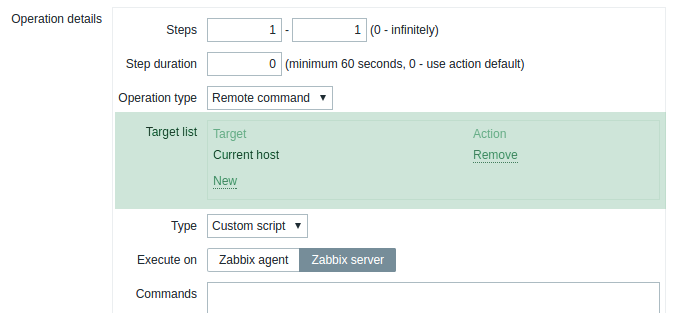 When multiple hosts are specified it results multiple same command executions, and all macros are being expanded for "Current host" context.
Documentation states that "A command on a host is executed only once, even if the host matches more than once (e.g. from several host groups; individually and from a host group)" and "host level macros are checked first".
So as far as I understand, there should be:
A change in macro expansion logic so this feature can be used to specify host-specific macro in remote command
or
Target list should be removed from remote commands executed on server as all commands are executed in "current host context"
duplicates

ZBX-6554 remote commands on server not documented

Closed