Problem report

Trivial
Sprint 27, Sprint 35, Sprint 36, Sprint 37, Sprint 39, Sprint 40
Steps to reproduce:
Go to Map Constructor.
Add two shapes. By default two rectangles were added with black borders.
For this moment user has not chosen any colors.
Choose two shapes -> Mass update shapes overlay has opened.
Check checkboxes: Font color, Background color, Border color.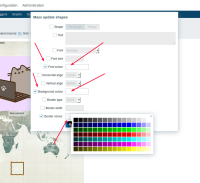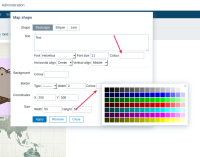 Result:
Despite default colors are in use, fields are empty.
Color pickers are present in fields, but they are invisible and it is unclear, that clicking the field will cause color picker appearance.
Expected:
Some kind of color picker icon might be in use, or empty color indicator: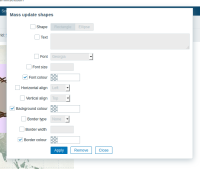 Also mouse cursor should be visibly changed on color picker hover, like it happens on all clickable elements hover.