Type: Incident report

Priority: Major

Affects Version/s:

4.2.0beta2
Steps to reproduce:
Create Zabbix trapper item with Data type Numeric (unsigned);
Send one value using zabbix_sender;
Navigate to Monitoring→Latest data;
Click on Graph.
Result:
Horizontal green line fills all time interval of the graph.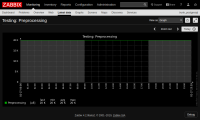 Expected:
As far as I recall graphs for trapper items always had a horizontal line from the latest value in the interval to the right Y axis, data has never been extrapolated to the past.
By the way, Values and 50 latest value correctly show a single value.