Problem report

Trivial
Sprint 55 (Aug 2019), Sprint 53 (Jun 2019), Sprint 54 (Jul 2019)
Steps to reproduce:
Create empty dashboard
In sharing popup add permission to guest user to see it, but not to edit
Login as Guest
Open this dashboard
Result:
Placeholder has icon on it, but no text.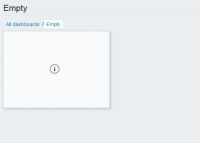 Expected:
Empty dashboard placeholder should have a label, explaining that user has no permissions to edit dashboard. Or just that dashboard is empty.