Type: Incident report

Priority: Trivial
Steps to reproduce:
Create a remote command with several lines in the action field to fix a problem.
Wait for the start of the problem.
To see that instead of executing several commands from a new line, one command is executed with a carriage return.
Result:
For example, let's imagine that our problem can be solved in a privileged way by executing such commands:
send log I am logged in
and I expect
each line execute
as sepatate command

You can see that IOS perceives each line as a separate command.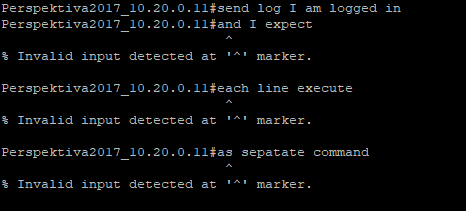 But when the commands are executed by Zabbix, all the commands pass as one with several line breaks.

It is important to note that the first line with a send log entry is used to show that the line break did not lead to the execution of the command. In real life scenarios, everything happens in a similar way.
It is also important to note that the problem is not reproduced in RouterOS, for example.
Expected:
Each line is accepted as a separate command.