Sprint:

Sprint 56 (Sep 2019), Sprint 57 (Oct 2019), Sprint 58 (Nov 2019)
If Multiselect element is at the bottom of popup, like in Clock widget options, it's suggests are displayed below the multiselect element, but that area is hidden by scroll. As a result it looks like there are no suggestions for this multiselect element.
These suggestions should appear above the popup for them to be always visible.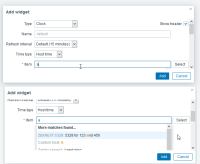 causes

ZBX-16871 Undefined index in Event correlation form

Closed

ZBX-17019 Some kind of letter between multiselect input and button Select in widgets

Closed
is duplicated by

ZBX-16857 Host group name displayed as dots in multiselect

Closed
part of

ZBXNEXT-5412 Action and Event correlation conditions as popups

Closed

ZBXNEXT-4700 Action operation creation as popup window

Closed