Problem report

Trivial

CentOS 8.0
zabbix server 4.4.1 (Revision 8870606e6a 28 October 2019)
Steps to reproduce:
I installed 2 zabbix servers, and those 2 zabbix servers are same problem. 
I need to sharing dashboard to guest users.
but when I click the Sharing in actions, pop-up menu doesn't appear on the page. 
I wait long time for this, but it isn't working. Please help. 
See screenshot...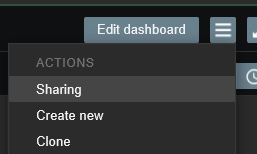 See log file...
See memory dump...
Expected:
See screenshot....
See attached patch file...