Problem report

Trivial
Problem description: If you attempt to clone a media type and while doing so update one of its operations, it will not be possible to save this media type clone - error "Incorrect input parameters" will be returned.
Steps to reproduce:
Navigate to Configuration => Actions
Open any action and press "Clone" button
Change the name of the clone and open "Operations" tab
Edit any existing operation (for example change the media type used for message sending, or change the host group that a discovered host needs to be assigned to).
Attempt to save the action clone.
Result: The action is not saved, the following error is returned: "Cannot add action. Incorrect input parameters."
Expected: The action clone should be successfully saved. No errors should be observed.
Example: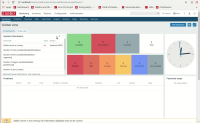 caused by

ZBXNEXT-4700 Action operation creation as popup window

Closed