Type: Problem report

Priority: Trivial

Affects Version/s:

5.0.0alpha3

Labels:
Sprint:

Sprint 61 (Feb 2020), Sprint 62 (Mar 2020), Sprint 63 (Apr 2020)
After media type form is saved parameters are sorter naturally.
In test form parameters are sorted completely different from configuration form. Which makes Media testing not very user friendly.
Also it would be nice to see the name of currently testing Media type.
Configuration form parameters order: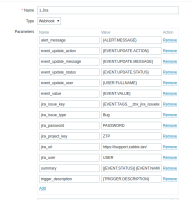 Test form parameters order: