Type: Problem report

Priority: Trivial

Affects Version/s:

5.0.2rc1

,

5.2.0alpha1
Steps to reproduce:
Create HTTP agent item.
set URL - https://www.google.com
Type of information - Text
press "Test" -> press "Get value and test"
click on result
change browser size
To reproduce this - One of the result popup borders, should be connected to browser... 
Result: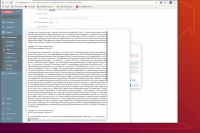 Expected:
Result window resized.