Incident report

Trivial
Steps to reproduce:
Configure host with multiple SNMP interfaces, all interfaces with the same IP and port but different community.
Try to create SNMP item for that host.
Result:
All interfaces on drop down list look the same, and they are hard to choose.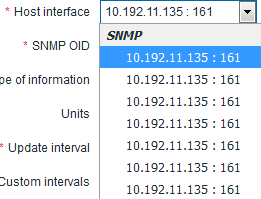 Expected:
Interfaces on drop down list should be distinguishable.
duplicates

ZBX-17877 Broken SNMP Interfaces after upgrade to 5.0

Closed