Documentation task

Trivial
Sprint 93 (Oct 2022), Documentation backlog, Sprint 94 (Nov 2022), Sprint 95 (Dec 2022), Sprint 96 (Jan 2023), Sprint 97 (Feb 2023), Sprint 98 (Mar 2023), Sprint 99 (Apr 2023), Sprint 100 (May 2023)
Currently, all links with resolved macros (including links with no macros) are shown in a trigger menu on a problem page: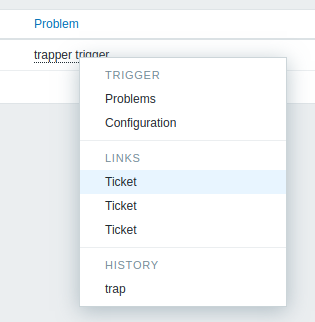 With the growing list of Webhooks, this bloats the trigger menu and causes confusion for users.
The proposed solution is to use an action list to determine the webhooks related to the problem. Then links will be more relevant.
is duplicated by

ZBX-21493 Integration Zabbix with Jira using jira Webhook

Closed