Problem report

Trivial
Sprint 69 (Oct 2020), Sprint 70 (Nov 2020)
Steps to reproduce:
1) Disable "manual close" option for trigger.
2) Disable actions for role - "Acknowledge problems", "Change severity", "Add problem comments". 
3) Leave action "Close problems" enabled.
4) Create problem (trigger with disabled manual close). 
5) Go to monitoring->Problems. 
Result:
Acknowledge link button is enabled. Yuo can press on it and opens popup, where you can't do anything.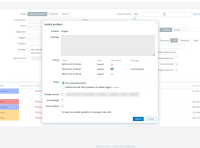 Expected: 
Ack link button is disabled. 
There is several places where need to change this. 
1) In widgets.
2) Monitoring->Problems page.
3) With link/URL
Also, need to check that Ack link button becomes active, after pages auto refresh.