Problem report

Trivial

Debian 10 amd64
Zabbix 5.0.5
SNMPv3
Steps to reproduce:
Want to monitor a device via SNMPv3
Read the docs
Compare Authentication and Privacy settings between Zabbix Frontend and the device
Zabbix offers SHA and AES without and hint about the details.
The device expects an exact match by specifying which SHA and AES exactly
Result:
I can select SHA, but I don't know what SHA exactly.
I can select AES, but I don't know what AES exactly.
The connection fails. See screenshots.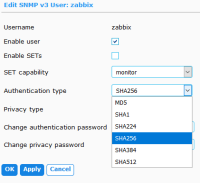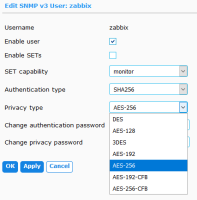 Expected:
Like in the switch config, I expect from Zabbix Frontend and/or Zabbix Docs, that it's explained what SHA/AES exactly I choose, so I can match my settings regarding the device.