Problem report

Trivial

4.0.26

,

5.2.0

,

5.4.0alpha1
Some fields, with label on the left side, can be focused clicking on space near fields name. 
Steps to reproduce: 
1) Go to "User Settings"
2) Click somewhere to left of "URL (after login)" field. 
Result:
Field is focused, you can type there something.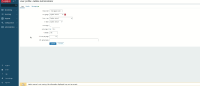 Expected:
Nothing happens. Field is focused, only when click on fields name or on field.