Problem report

Trivial
Problem description: checkboxes in the lists of hosts, templates and items are not cleared after mass update gets executed. Such behavior degrades the usability in case if the user modified entries on multiple pages of the corresponding views, as he'll be forced to go through all pages with selected entries to deselect them.
Steps to reproduce:
Navigate to Configuration => Templates, Configuration => Hosts or Configuration => Hosts/Templates => Items
Select a couple of entries from the host/template/item lists
Press mass update button
Update any of the fields in the massupdate view
Press update button
Result: the checkboxes next to the entries that were selected for the mass update are still checked.
Expected: because the mass update action already took place the checkboxes should be unset.
Example: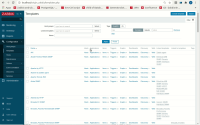 depends on

ZBXNEXT-7070 Templates and Linked templates tabs should be removed from host and template Mass update forms

Closed