Problem report

Minor
Create an item: test.trap which holds integer values.
Create a calculated item that takes the last value and substracts the previous value:

last(

"test.trap"

)-last(

"test.trap"

,

"#2"

)
Create a preprocessing step: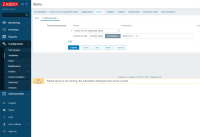 Deliver only one metric to test.trap item.

zabbix_sender -z 127.0.0.1 -s trap -k test.trap -o 44
When the calculated item will execute the expression, the server will crash with a message:
server.log

P.S.
If there are two metrics in item, then it works.
If a preprocessing step has been removed, then it works.
Attaching template for faster reproducing:
Check-for-not-supported-value.yaml

caused by

ZBXNEXT-6035 Introduce "Override errors" to items

Closed
is duplicated by