Problem report

Minor

5.0.11

,

5.2.6

,

5.4.0beta3
If the authentication method of a SSH agent item is set to public key and the value of the "Public key file" or "Private key file" parameter is stored in an user macro, then it is not possible to test this item because the user macro does not get resolved.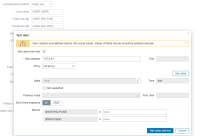 Without any macros everything is fine.
Also does this not affects the gathering of values. Just the Test don't work.