Problem report

Trivial

Resolution:

Cannot Reproduce
Hi,
after update from 5.4.beta1 to 5.4.0 in my widget "Data overview" not show all host.
Before update widget show 20 hosts !!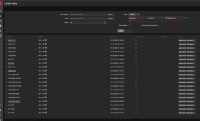 Even after deleting the filter tag, not all servers will be displayed, but maybe only about 5-10% of all that should be there.
And another thing is that the descriptions of the columns in the widget have changed to horizontal, which spoiled my whole overview

(Please add it so that you can set whether they should be horizontal or vertical )