Problem report

Trivial
Sprint 83 (Dec 2021), Sprint 84 (Jan 2022)
Problem description: if an item key ther returns a string is used for an item with type that operate only with numeric data, like Calculated items, the type of information is left blank, because the desired value "Craracter" is disabled. Also the warning icon displays text that the type of information doesn't correspond to the provided item key, but actually in this case the item key itself doesn't correspond to the type of item.
Suggestion is to add a warning icon next to an item key, that is displayed when the item key doesn't correspond to the selected item type.
Steps to reproduce:
Open the list of items of any existing host and press "Create item" button
Select "Type" = "Calculated"
Select an item key that returns a string, for example "agent.hostname"
Check the value of "Type of information" field
Result: "Type of information" field is blank because the value that it want's to select is disabled. Icon shows that type of information is not selected according to the item key.
*Expected:*if it is not possible to select the desired type of information - it should stay unchanged.
The warning icon should be next to the item key and should state that such item key is not valid for the selected item type.
Example: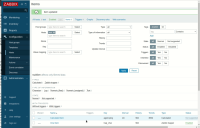 caused by

ZBXNEXT-6896 Automatic type selection in Item form

Closed