Problem report

Trivial

5.4.10rc1

,

6.0.0rc1 (master)
Steps to reproduce:
Create Host->item->trigger.
Create Trigger Action with operation - send message.
In created action, check-in Custom message.
In message field add long-long text without spaces.
Create problem (action triggered, message sent.)
check Action log.
Result:
Action log screen stretched.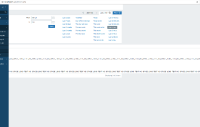 Expected:
Text wrapped.