Problem report

Critical

Debian Stable (bullseye, 11.2)
Sprint 85 (Feb 2022), Sprint 86 (Mar 2022), Sprint 87 (Apr 2022), Sprint 88 (May 2022), Sprint 89 (Jun 2022), Sprint 90 (Jul 2022), Sprint 91 (Aug 2022), Sprint 92 (Sep 2022)
Steps to reproduce:
Go to "Monitoring" - "Latest Data"
Select 2 hosts: for example, "host_with_1000+" (is our host with more, than 1000elements), and any other "another_host"
You can normally use view (it will show at the end page "Displaying 1 to 200 of 1000+ found")
Now lets leave only one host "host_with_1000+"
We will get infinite load on page...
Result: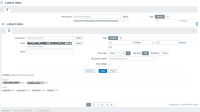 Expected:
We can use one host with many elements on "Latest Data" as normal.
P.s.: Changing global setting "Limit for search and filter results" isn't helping either, it seems like there is some kind of hard limit (1000 elements) for one selected host for some unknown reason...
Note: seems to happen only when the host is selected individually (that is, no group selection is made).
depends on

ZBXNEXT-7743 Open Monitoring - Latest data without any data with default tab Latest data

Open
is duplicated by

ZBX-19187 Long SQL request in Latest data

Closed
mentioned in

Page Loading...