Problem report

Trivial
Sprint 87 (Apr 2022), Sprint 88 (May 2022)
Problem description: it is not possible to import a map if it contains a Host group element due to the following error:
Invalid tag "/zabbix_export/maps/map(1)/selements/selement(1)/elements/element(1)": unexpected tag "uuid".

Steps to reproduce:
Navigate to Monitoring => Maps
Create a new map
Open constructor for this map
Add a Host group element that represents "Zabbix servers" host group
Save the map
Export the map
Delete the map
Attempt to import the map
Result: Map import failed with the above error.
Expected: Map import should be successful.
Example: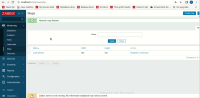 depends on

ZBX-16718 Empty tags being present when exporting media type of type webhook

Closed