Documentation task

Minor
'Standard' users (i.e. those with the standard "User role") in the main menu "Services" do not have the submenus "Service actions" and "SLA". This is due to the settings of this role: for it, these items are indeed disabled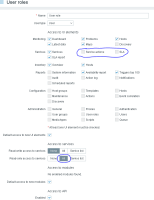 But the documentation says the opposite:


As an additional note, the table itself is also very difficult to read.
It is not clear what "yes" and "no" mean in the corresponding columns of the table. I guess, it is expected to be one of the three options (None, All, Service list) which is the default for the role:


But then another question is why the default for "user" is "No" if in fact, the default is "All"
duplicates

ZBXNEXT-7668 Rework services documentation section

Fix for QA