Problem report

Trivial

4.0.43

,

5.0.28rc1

,

6.0.9rc1

,

6.2.3rc1

,

6.4.0beta1
Steps to reproduce:
Open item configuration form
Choose HTTP Agent type
Fill in 'Query fields' name ( value should be empty)
Save changes
Result: empty field validation is missing.
Note: the same scenario works for headers e.g.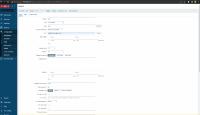 Expected: The error message should appear "Nonempty key and value pair expected."