Problem report

Trivial
Sprint 94 (Nov 2022), Sprint 95 (Dec 2022), Sprint 96 (Jan 2023), Sprint 97 (Feb 2023), Sprint 98 (Mar 2023)
Steps to reproduce:
1) Create item prototype with type - Calculated.
2) Wait till item discovered and created on host.
3) Navigate to created item.
4) Check - Trend storage period.
Result: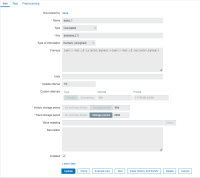 Storage period button looks like enabled. Can be pressed - but nothing happens.
Expected:
It should be disabled.