Problem report

Trivial

5.0.29rc1

,

6.0.10rc1

,

6.2.4rc1

,

6.4.0beta2
The bug is moved from ZBX-16432 sub-issue #6
Steps to reproduce:
Create a host with an item, application, and graph.
Export host (XML file).
Delete a value from host's<name> field and from any other <name> field (XML file) or use file from e.g. zbx_export_hosts_empty_names.xml .
Import it back.
Check the error message
Result: Error appears: 'Invalid parameter "/1/name": cannot be empty.'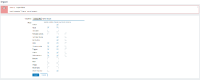 There are a lot of places where 'name' is used and It's hard to understand which one of them cannot be empty. E.g. parameter 'name' under hosts can be empty (the visible name is not mandatory).
Except: error message should be more understandable for users.
duplicates

ZBX-7197 technical field names instead of readable strings in frontend error messages

Postponed