Problem report

Critical
Main item collects JSON data with "discard unchanged with heartbeat".
Dependent item item extract data from main item and "if JSONpath is not found" - set value to 0.
Finally since 6.4.0rc2 such configuration ignores last collected value in main item and always set value to 0 in dependent item when value is discarded on main item: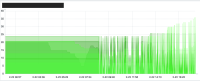 Zabbix was upgraded around 8AM (middle of the graph).