Change Request (Sub-task)

Trivial
Sprint 2, Sprint 3, Sprint 4, Sprint 5, Sprint 6, Sprint 90 (Jul 2022), Sprint 91 (Aug 2022), Sprint 92 (Sep 2022), Sprint 93 (Oct 2022), Sprint 94 (Nov 2022), Sprint 95 (Dec 2022), Sprint 96 (Jan 2023)
Screen 1: LDAP servers list
Currently Zabbix LDAP authentication supports only one LDAP server. Some users consider it a limitation (e.g. it is not possible to configure secondary LDAP server for high availability, complex configurations may use several LDAP servers). While support of multiple LDAP servers is not yet planned, the overall LDAP user synchronization design tries to include multiple LDAP server perspective. Therefore we start from LDAP servers configuration screen.
LDAP servers overview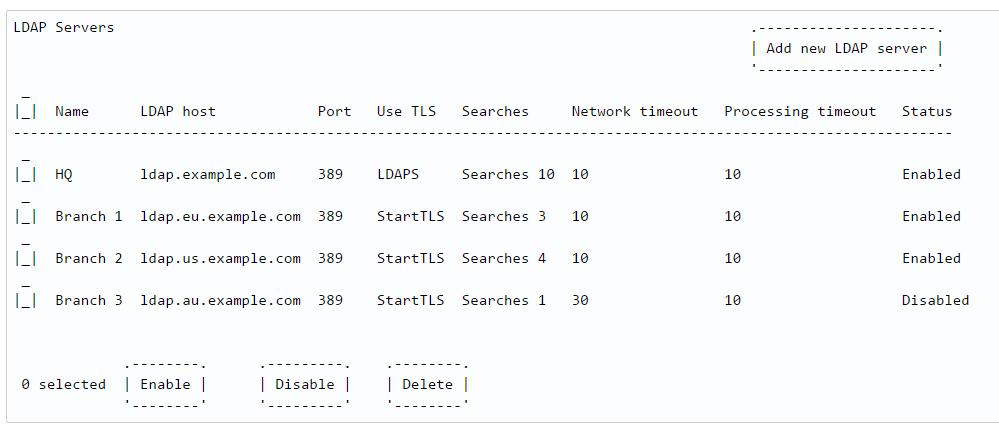 Name is a display name (for convenience, technically it is not necessary).
LDAP host shows a host name or IP address of LDAP server.
Searches is a link for going into LDAP searches configuration page, it also shows number of configured searches for this LDAP server.
Network timeout and Processing timeout - configurable parameters for LDAP library.
Status is a link for convenient enabling/disabling synchronization from this LDAP server. (It would be very inconvenient if the only method of temporary disabling a server was deleting it).
depends on

ZBXNEXT-3831 LDAP authentication: Administrator setup LDAP groups (Case 2)

Closed