Type: Change Request

Priority: Trivial

Affects Version/s:

4.0.14

Labels:

Environment:

Frontend web site
Sprint:

Sprint 61 (Feb 2020), Sprint 62 (Mar 2020)
Hi,
I searched to add a new option to the GOTO menu. And I finally found the file menupopup.js.
So, I added a new menu to go on the host configuration :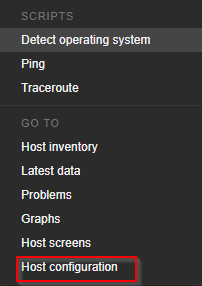 See in attachment the code that I did.
Is it possible to include it in the next version of the zabbix ?
Thank you,
depends on

ZBXNEXT-5694 Monitoring→Hosts for the list of hosts and easy navigation

Closed