Change Request

Minor
Please allow to Host group filtering option to design a modern graph widget.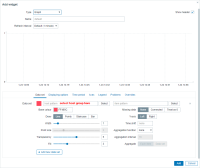 This will allow delivering more flexibility to represent metrics in the widget.
Currently, if the node is accidentally removed from instance. Once it is registered again (hopefully through autoregistration or network discovery) I still need to touch the widget to add the missing line.
Because in auto registration and network discovery the host group is involved pretty much by default it would be brilliant to have this filtering option in modern graph widget.
duplicates

ZBXNEXT-5625 allow new graph widget to filter by a host group

Open