Type: Change Request

Priority: Trivial

Affects Version/s:

5.2.0

,

5.2.2rc1

,

5.4.0alpha1

Labels:
Sprint:

Sprint 74 (Mar 2021), Sprint 75 (Apr 2021), Sprint 76 (May 2021), Sprint 77 (Jun 2021), Sprint 78 (Jul 2021), Sprint 79 (Aug 2021), Sprint 80 (Sep 2021)
Monitoring->Problems and Monitoring->hosts filters tabs, can be improved. Here are some suggestions:
1) Home tab icon changed to standard "Filter". Same as it looks, in version 5.0. 
2) More space between saved filters tabs.
3) Arrows that switch tabs, should appear only when necessary.

4) When there is only Home tab, drop-down with filter list displayed at top of the page. I t should be displayed as usual drop-down.

5) Buttons name need to be changed.
6) With enabled "Show number of records" option, active filter should display result amount too. Not only when switch tabs. 
7) Message should appear after deleting filter.
8) Long filter name. It would be nice to shorten it somehow.
9) Change arrows.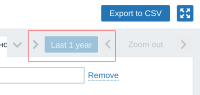 depends on

ZBXNEXT-6309 Add support for multi-page dashboards

Closed