Change Request

Trivial
Currently zabbix_trap_receiver.pl scripts is not able to translate\substitute integer values of received traps even if MIB holds description on it.
On next screenshot we can see it marked with red. Then we can see how community fix solves this problem, - marked with blue.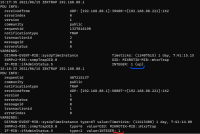 This fix was done by community back in 2017:
https://www.zabbix.com/forum/zabbix-troubleshooting-and-problems/37733-snmp-traps-translate
It is time to improve script in zabbix git.
Community solution:
zabbix_trap_receiver_values_translated.pl