New Feature Request

Major

Windows 10 since Feature level 1607 aka Windows Server 2016
Sprint 94 (Nov 2022), Sprint 95 (Dec 2022)
Since Windows 10 or Windows Server 2016, it's possible to identify the exact version and patch level of any Windows, by looking at it's build number, for example: Start -> Run -> winver.exe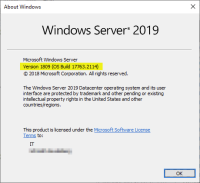 With the help of this number, and the very good reference documentation from Microsoft, this can make very good inventory values and can make very good patch level monitoring values.
Example list for Windows Server 2019 build numbers and patch levels: https://support.microsoft.com/en-us/help/4464619
2016: https://support.microsoft.com/en-us/help/4000825
It's easy to get this value with a UserParameter, but it's important enough to work out of the box IMHO.
I suggest an item key similar to: system.sw.os which currently only works on Linux agents, but not on Windows agents.
The return value should look like this: 17763.2114
mentioned in

Page Loading...