Change Request

Trivial
Sprint 95 (Dec 2022), Sprint 96 (Jan 2023)
In old versions of Zabbix, we could only ack problems and nothing else. In those versions, we saw a column "ack" in the Monitoring -> problems page, with a value of yes or no.
That was absolutely correct.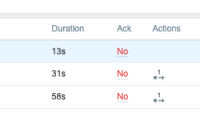 However, we are not only acking problems in recent versions, we are updating them, by changing the severity, closing, ack/unack etc. So the column "ack" is misleading.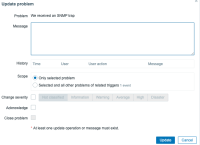 Suggestion/request: Replace "Ack" by "Update in the problems page to reflect the functionality