Type: Problem report

Priority: Trivial

Affects Version/s:

4.0.2

,

4.2.0alpha2

Labels:
Moved from ZBX-15270 (1)
Steps to reproduce:
Open graph widget configuration.
Add a large number of data sets to make the scroll bar appear.
Try scrolling down/up.
Result:
As you scroll up, data sets rows appear on the top (Firefox, Internet Explorer).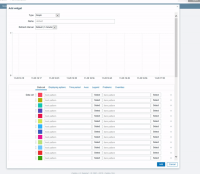 part of

ZBX-15270 Graph Widget configuration form cross browser issues

Closed