Problem report

Trivial

4.0.16rc1

,

4.4.4rc1

,

5.0.0alpha1
Sprint 59 (Dec 2019), Sprint 60 (Jan 2020), Sprint 61 (Feb 2020)
Steps to reproduce:
Go to problems page
Select "History" value for "Show" field
Apply filter
Open filter tab with date/time
Type invalid date format, for example, type "abc" in "Form" field
Apply filter, get error message "invalid date."
Select "Filter" tab
Apply filter
Result:
Fatal error, please report to the Zabbix team
- Incorrect value for field "from": a time is expected.
- Controller: problem.view
- action: problem.view
- filter_application:
....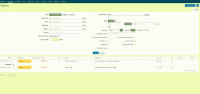 On pages Reports -> Availability report, 100 busiest triggers, Audit log the result is without fatal error, but with message "Zabbix has received an incorrect request."


causes

ZBX-17447 Filter doesn't work on Media types and Users pages

Closed