Problem report

Trivial

4.0.37rc1

,

5.0.19rc1

,

5.4.9rc1

,

6.0.0beta1
Problem description: Is a template gets unlinked during the full clone process the following error is returned when attempting to save full clone configuration:
Steps to reproduce:
Create a host and link a template to it
Open host configuration and press "Full clone" button
Open "Templates tab and unlink the template"
Attempt to save the clone.
Result: The above error is returned, configuration cannot be saved.
Expected: Configuration of the Full clone should be successfully saved even though the template was unlinked.
Example: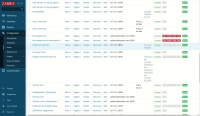 duplicates

ZBX-18959 Not possible to Full Clone a host if a template with at least one item is unlinked during this operation

Open