Problem report

Major
Sprint 96 (Jan 2023), Sprint 97 (Feb 2023), Sprint 98 (Mar 2023), Sprint 99 (Apr 2023), Sprint 100 (May 2023), Sprint 101 (Jun 2023), Sprint 102 (Jul 2023), Sprint 103 (Aug 2023), Sprint 104 (Sep 2023)
Steps to reproduce:
1) Create host.
2) Create web scenario and add several headers:



3) Open created Web scenario and change headers order.
4) Press update to save changes.
5) Navigate back to the updated web scenario and check Headers order.
Result:
No changes in headers order.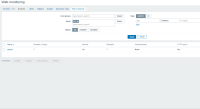 Expected:
Headers order changed.
caused by

ZBXNEXT-6980 Implement audit log for item

Closed
duplicates

ZBXNEXT-7578 Make the data structure for "headers" and "query_fields" of items, item prototypes, LLD rules the same as is for web scenarios

READY TO DEVELOP

ZBX-23121 Reordering of draggable fields in web scenario and web scenario step configuration forms is ignored

Closed