New Feature Request

Trivial

4.0.37rc1

,

5.0.19rc1

,

5.4.9rc1

,

6.0.0beta1
Sprint 83 (Dec 2021), Sprint 84 (Jan 2022), Sprint 85 (Feb 2022), Sprint 86 (Mar 2022), Sprint 87 (Apr 2022), Sprint 88 (May 2022), Sprint 89 (Jun 2022), Sprint 90 (Jul 2022), Sprint 91 (Aug 2022), Sprint 92 (Sep 2022), Sprint 93 (Oct 2022), Sprint 94 (Nov 2022), Sprint 95 (Dec 2022), Sprint 96 (Jan 2023), Sprint 97 (Feb 2023)
Currently the data-hintbox popup elements are not closed when the context on the page is changed, and are removed only when the page is reloaded. For example:
1 - If You click on the number of certain severity problems in a problems by severity widget - a popup appears. This popup is not closed when switching between Dashboard pages and even when entering edit mode.
2 - If a Service contains more than 3 service tags, then when clicking on the ellipsis symbol a popup with the whole list of tags appears. Even though this popup belong to the info block, when the user switches to the filter, the popup is still open even though the context that it belongs to is not shown anymore.
There are also other places in frontend where such problem appears.
Example: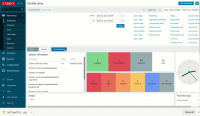 Suggestion is to make such popups context dependent, so that they would close when the context is changed.