Change Request

Trivial
Sprint 90 (Jul 2022), Sprint 91 (Aug 2022), Sprint 92 (Sep 2022)
Imagine we would like to use Zabbix to monitor KPI's. Those KPI's (current values) can be presented on a dashboard, thanks to the "Item Value" widget, which is a great way to present multiple KPI's.
However, although the 'dynamic configuration' checkbox is adding a lot of options, it's still a static configuration: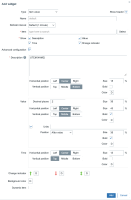 If we check the 'Top hosts' widgets, we can change colours based on thresholds: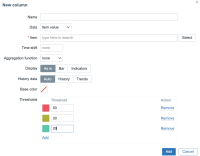 It would be very cool if we are able to change the (for example) background of the Item value widget, based on a "static" threshold, as defined already in the 'Top hosts' widget, or even better: based on trigger statuses.
This way we can utilise the Item value widget even more; presenting a value and immediately it's current status with the dynamic background!