Documentation (Sub-task)

Major
Sprint 85 (Feb 2022), Sprint 86 (Mar 2022), Sprint 87 (Apr 2022), Sprint 88 (May 2022), Sprint 89 (Jun 2022), Sprint 90 (Jul 2022), Sprint 91 (Aug 2022), Sprint 92 (Sep 2022), Sprint 93 (Oct 2022), Sprint 94 (Nov 2022), Sprint 95 (Dec 2022)
I was browsing the Zabbix 5.2 documentation for in-depth information about Host prototypes, but wasn't able to find anything useful. Only short mentions about it in the LLD overrides section.
But since the massively increased feature set of 5.2.x, they deserve and in-depth technical chapter, which is currently just not there.
I would expect the documentation right here: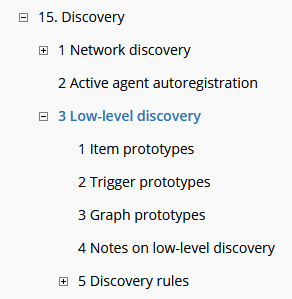 depends on

ZBXNEXT-2043 Add functions for VMWare monitoring

Closed
mentioned in

Page Loading...