Problem report

Trivial
Sprint 65 (Jun 2020), Sprint 66 (Jul 2020), Sprint 67 (Aug 2020), Sprint 68 (Sep 2020), Sprint 69 (Oct 2020), Sprint 70 (Nov 2020), Sprint 71 (Dec 2020), Sprint 72 (Jan 2021), Sprint 73 (Feb 2021), Sprint 74 (Mar 2021), Sprint 75 (Apr 2021), Sprint 76 (May 2021), Sprint 77 (Jun 2021), Sprint 78 (Jul 2021), Sprint 79 (Aug 2021), Sprint 80 (Sep 2021), Sprint 81 (Oct 2021), Sprint 82 (Nov 2021), Sprint 83 (Dec 2021), Sprint 84 (Jan 2022), Sprint 85 (Feb 2022), Sprint 86 (Mar 2022), Sprint 87 (Apr 2022), Sprint 88 (May 2022), Sprint 89 (Jun 2022), Sprint 90 (Jul 2022), Sprint 91 (Aug 2022), Sprint 92 (Sep 2022)
I recently enabled auto registration on our systems and it has been working great... except for an annoying issue that we have been having. We want to monitor our servers by their static IP, so by default we leave HostInterface and HostInterfaceItem blank. And this works for most servers, but some servers end up doing the following
Create a new interface with the correct static IP address
Change the default interface to DNS (even though DNS is empty/blank)
This causes the host to go offline. This issue is with only a handful but the problem persists. I even deleted the host thinking it was a bug with auto-registration and existing hosts. But when the new host auto-registers, the issue is still there.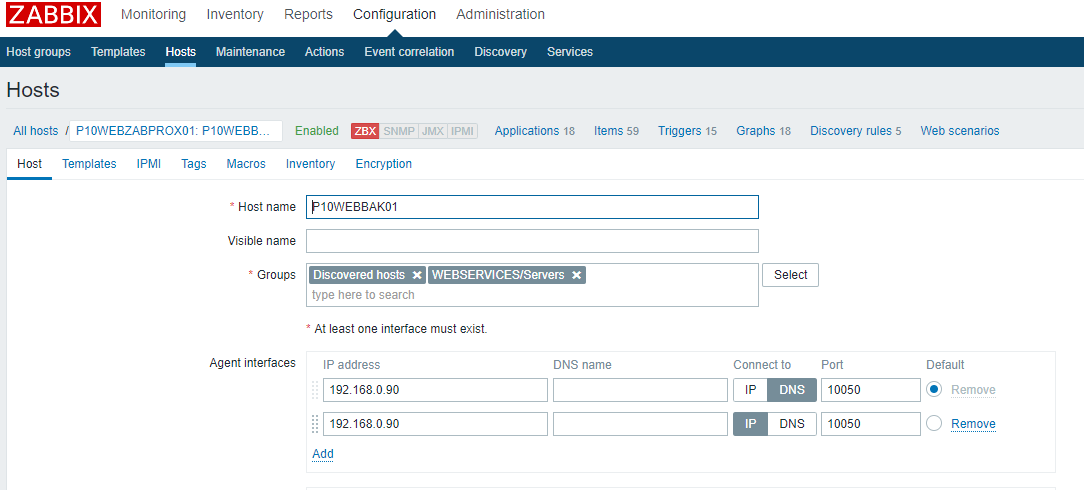 causes

ZBXNEXT-593 fping detection improvements

Open

ZBX-17848 Fix fping interval detection and confusing documentation of ICMP checks interval

Closed
duplicates

ZBX-20326 Zabbix creates new dns interface in host with empty value

Closed
mentioned in

Page Loading...